Cadbios Forte Capsule 10s
Cadbios Forte Capsule 10s
Prescription Required
strip of 10 capsules
Manufacturer :
Zydus Cadila
Composition Name:
Lactobacillus Acidophilus (1B) + Saccharomyces Boulardii (0.5B) + Fructo Oligosaccharides(100Mg) + Bifidobacterium Lactis (1B) + Lactobacillus Rhamnosus (1B) + Bifidobacterium Longum (1B) + Bacillus Clausii (2B) + Clostridium Butyricum(0.5B)
#all
Introduction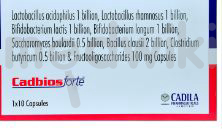 Introduction to Cadbios Forte Capsule 10s
data not exist
India's Largest Platform
For Health Care Videos
Medwiki is a channel that provides reliable and accurate information on medications and their use. Our team of pharmacists and medical experts answer common questions about medications, including how they work, how to take them correctly, and potential side effects.
We understand that there is a vast amount of information available online about medications, and it can be overwhelming and difficult to know who and what to trust. That's why we created Medwiki – to provide actionable information that helps you understand your medications and make informed decisions about your health.
Whether you have questions about a specific medication or want to learn more about a particular condition, our pharmacists are here to help. Subscribe to our channel today and join our community of over 500,000 viewers!
@2023 Medwiki Pvt Ltd. All Rights Reserved