Introduction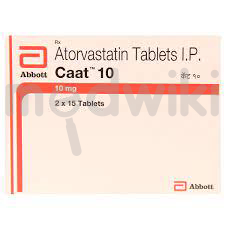 Introduction to CAAT 10 Tablet
CAAT 10 Tablet is a commonly prescribed medication that is considered safe for longterm use when taken as directed by a doctor It can be taken with or without food and at any time of the day although it is recommended to take it at around the same time each day Many individuals with high cholesterol may not experience symptoms but discontinuing the medication can lead to an increase in cholesterol levels thereby raising the risk of heart disease and stroke Therefore it is important to have cholesterol levels regularly checked This medication is just one component of a comprehensive treatment plan which should also include a healthy diet regular exercise smoking cessation moderation of alcohol intake and weight reduction While taking this medication you can continue eating normally but it is advisable to avoid foods high in fat Some common side effects of CAAT 10 Tablet include constipation flatulence dyspepsia and abdominal pain These side effects are typically mild and temporary but if they persist or if you notice yellowing of the eyes or experience recurring or unexplained muscle pains it is advisable to consult your doctor Certain conditions such as liver disease prohibit the use of this medication Additionally pregnant women and breastfeeding mothers should avoid taking this medication as it may harm the developing baby Diabetic patients should monitor their blood sugar levels while taking this medication as it may cause an increase in blood sugar levels Before starting the treatment your doctor may evaluate your liver function and continue monitoring it regularly thereafter
USES IN CAAT 10 Tablet
BENEFITS OF CAAT 10 Tablet
CAAT 10 Tablet belongs to a group of medicines called statins. It works by reducing the amount of "bad" cholesterol (LDL) and raising the amount of "good" cholesterol (HDL) in your blood. Lowering the amount of cholesterol reduces the chances of heart diseases and helps you remain healthier for longer.
Take it regularly and make appropriate lifestyle changes (such as eating healthy and staying active) to maximize the effectiveness of this medicine. Keep taking it even if you feel well.

High levels of cholesterol can cause your blood vessels to narrow (atherosclerosis) and put you at risk of having a stroke or heart disease. Lowering the amount of this fat reduces the chances of this happening and helps you remain healthier for longer. Keep taking this medicine even if you feel well.
SIDE EFFECTS OF CAAT 10 Tablet
Constipation

Flatulence

Dyspepsia

Abdominal pain
Similar Medicine
For information purposes only. Consult a doctor before taking any medicines.
Safety Advice For
check for risk indication explain below.
Hard risk
Moderate risk
Safe
Alcohol
Caution is advised when consuming alcohol with CAAT 10 Tablet. Please consult your doctor.
Pregnancy
CAAT 10 Tablet is highly unsafe to use during pregnancy. Seek your doctors advice as studies on pregnant women and animals have shown significant harmful effects to the developing baby.
Breast feeding
CAAT 10 Tablet is unsafe to use during breastfeeding. Data suggests that the drug may cause toxicity to the baby.
Driving
CAAT 10 Tablet does not usually affect your ability to drive.
Kidney
CAAT 10 Tablet is safe to use in patients with kidney disease. No dose adjustment of CAAT 10 Tablet is recommended.
However, inform your doctor if you have any underlying kidney disease.
Liver
CAAT 10 Tablet should be used with caution in patients with liver disease. Dose adjustment of CAAT 10 Tablet may be needed. Please consult your doctor.
Use of CAAT 10 Tablet is not recommended in patients with severe liver disease and active liver disease.
India's Largest Platform
For Health Care Videos
Medwiki is a channel that provides reliable and accurate information on medications and their use. Our team of pharmacists and medical experts answer common questions about medications, including how they work, how to take them correctly, and potential side effects.
We understand that there is a vast amount of information available online about medications, and it can be overwhelming and difficult to know who and what to trust. That's why we created Medwiki – to provide actionable information that helps you understand your medications and make informed decisions about your health.
Whether you have questions about a specific medication or want to learn more about a particular condition, our pharmacists are here to help. Subscribe to our channel today and join our community of over 500,000 viewers!
@2023 Medwiki Pvt Ltd. All Rights Reserved