Introduction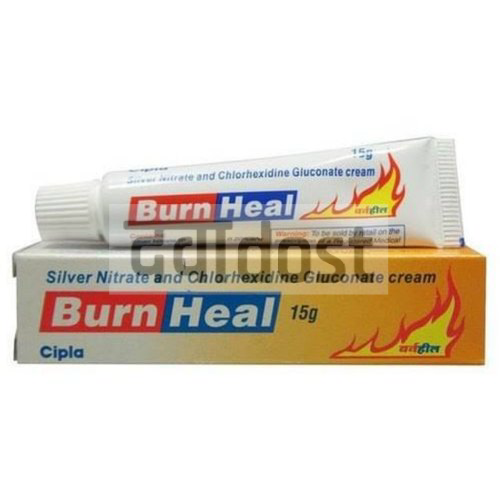 Introduction to Burnheal Cream 15gm
Burnheal Cream is a medication prescribed for the treatment of burns Its primary function is to eliminate harmful microorganisms that may cause infections while also helping to alleviate inflammation symptoms such as burning sensation irritation and pain By doing so it facilitates the healing process Burnheal Cream contains a combination of two medicines and is designed for external use exclusively It is important to adhere to the recommended dosage and duration as advised by your doctor Apply the cream only to the affected areas of the skin In the event of accidental contact with your eyes or mouth rinse it off immediately with an ample amount of water
USES IN Burnheal Cream 15gm
Antiseptic for cuts and abrasions
BENEFITS OF Burnheal Cream 15gm
It prevents and treats infections in burn wounds, reducing inflammation symptoms like burning sensation, irritation, and pain, promoting faster healing.

It can also be used as an antiseptic for minor cuts and abrasions to prevent infection and promote healing.
SIDE EFFECTS OF Burnheal Cream 15gm
Itching

Irritation

Burning sensation at the site of application
Similar Medicine
For information purposes only. Consult a doctor before taking any medicines.
Safety Advice For
check for risk indication explain below.
Hard risk
Moderate risk
Safe
Alcohol
No known interactions
Pregnancy
Consult your doctor, as information regarding its use during pregnancy is not available.
Breast feeding
Consult your doctor, as information on its use during breastfeeding is not available.
Driving
No known interactions
Kidney
No known interactions
Liver
No known interactions
India's Largest Platform
For Health Care Videos
Medwiki is a channel that provides reliable and accurate information on medications and their use. Our team of pharmacists and medical experts answer common questions about medications, including how they work, how to take them correctly, and potential side effects.
We understand that there is a vast amount of information available online about medications, and it can be overwhelming and difficult to know who and what to trust. That's why we created Medwiki – to provide actionable information that helps you understand your medications and make informed decisions about your health.
Whether you have questions about a specific medication or want to learn more about a particular condition, our pharmacists are here to help. Subscribe to our channel today and join our community of over 500,000 viewers!
@2023 Medwiki Pvt Ltd. All Rights Reserved